Other Works in this Series: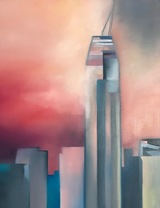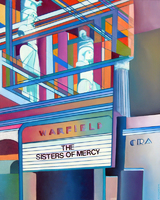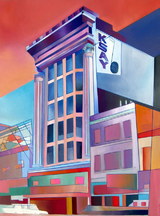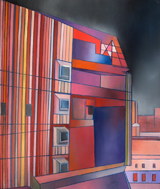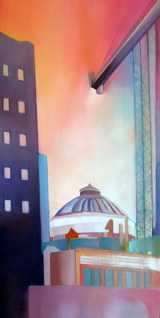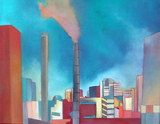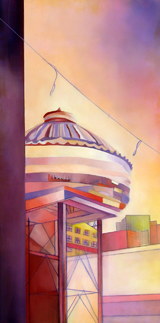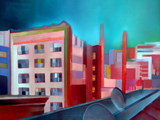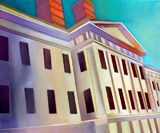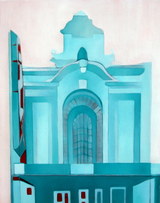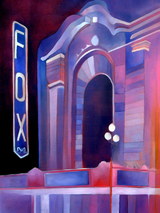 Hibernia Bank, 1906

Size: 12" x 30.5"
Medium: Oil on panel
Date: 2011
Available



Price: $1,450.
To inquire about this piece, contact Araujo


Painting comes with built in frame...see pic below.
This painting was first exhibited during Araujo's solo show, ON THE EDGE OF DELICATE LINES, July-September 7th, 2013 at Alphaville Gallery, in San Francisco. It is currently on view at the SF Flower Mart. This painting is featured in Araujo's book publication, SOMA RISING, in 2012. Hibernia Bank 1906 will be on view at the Old Mint, for "Mid-Market Landmarks" solo exhibition in San Francisco, January-March 2015. This painting will be exhibited again at the Old Mint during "SF History Days", March 2017.






DESCRIPTION:
San Francisco's Hibernia Bank, at Jones and Market Streets, located at the stretch of Market, is one of the saddest sights today, was designed and constructed in 1892 by the beaux-Arts tradition by Albert Pissis and William Moore, and was considered the most beautiful building in San Francisco. "In composition, it is a hybrid of a modified temple form and a variety of Baroque elements, notably the domed entrance corner and the fine entrance stairway. Its steel frame is clad in carved granite. Its interior is a richly detailed space dominated by a large stained glass dome. The copper crowned entrance dome provides a focal point which is simultaneously the most massive part of the building and a 2-story open entranceway". (Michael Corbett, 1979). "Pissis and Moore used only the most expensive materials in the building, which has granite exterior walls with an interior of marble, wrought iron, bronze, and mahogany". (Peter Booth Wiley, 2000).

The Hibernia was founded in 1859 by Richard Tobin. He was among the men who established The Hibernia Savings and Loan Society in 1859. After just 10 years in San Francisco, Tobin's career was made: Elected the society's attorney, his firm, Tobin & Tobin -- served the organization for 130 years, as it became The Hibernia Bank and was eventually acquired by the old Security Pacific National Bank, (now Bank of America as of 1988). During all those years, The Hibernia Bank remained the firm's principal client. In fact, for a time, the firm's offices were on the second floor of the Bank's headquarters at One Jones Street. A brass plaque at the front door read, "Tobin & Tobin--Attorneys--Up Stairs."

An interesting fact, Dr. Tumblety, also known as "Jack the Ripper", arrived in San Francisco in the early part of 1870 and took rooms at the Occidental Hotel. He opened an office at 20 Montgomery Street, but remained in the city only a few months, leaving in September of the same year. While here he opened an account with the Hibernia Bank and left a considerable amount to his credit in that institution when he went away. This account has never been closed and the bank still has the money in its vaults. This information can be obtained from a past article of the San Francisco Chronicle, dated November 23, 1888. For more info go to: www.casebook.org.

The Hibernia building was gutted in 1906, after the great earthquake and fire, then rebuilt, and became the headquarters of the police chief for a time. For almost a decade the Hibernia has been closed, and it is completely abandoned. "The Hibernia Bank has gone through a series of hands in the past 25 years. As recently as 1987 the bank remained a bank, serving to add foot traffic. After sitting vacant for some time, The Police Department took it over as a Task Force Station, which they operated for several years until a new station opened up nearby. The Hibernia went up for sale, and Thomas Lim is the owner. His organization, the Chinese Cultural and Philosophical Foundation, claimed it would be turning the bank into a Buddhist Temple. It never happened". (Casey Mills, 2005)

The Hibernia Bank is situated in a quiet and decayed area, by which the homeless frequent their daily walks, also by those on route to work. The building's exterior beauty offers a sense of shelter and monumental elegance. It is a loss for the public not to walk inside and enjoy the full beauty it once existed. The Hibernia Bank continues to be abandoned and is a controversial subject. Several articles have been written over the years, and is now in quest for new ownership. It may become a cultural center, a museum complex, a nightclub, or a complete new building - a skyscraper! Hopefully not. I truly wish for the Hibernia to be conserved and be utilized as a museum and library, performing arts center, and to facilitate special events. We shall see what develops. The Hibernia is a deserted masterpiece.



[ Write a Review for this Work ] [ Return to Gallery ]