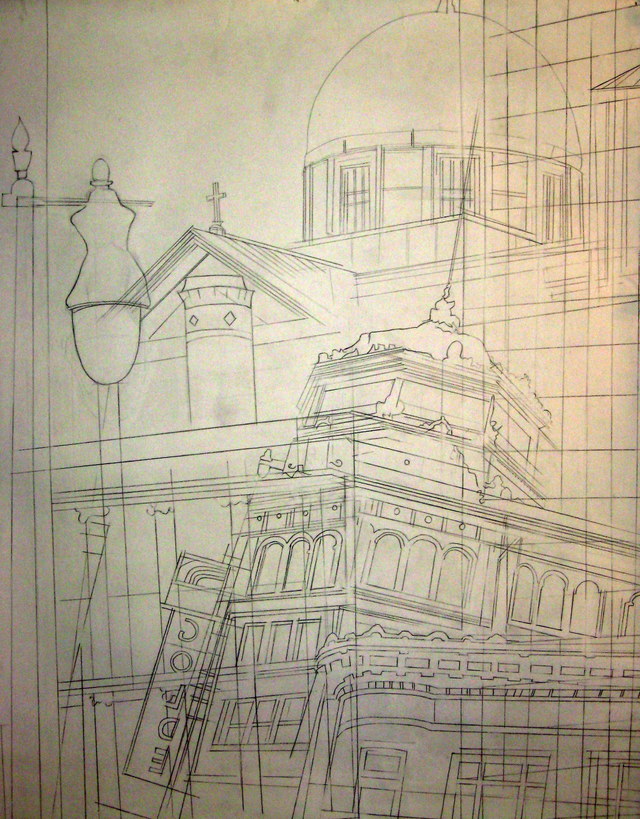 Other Works in this Series: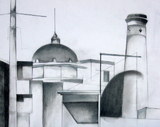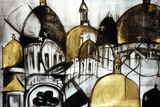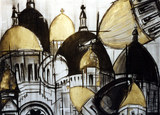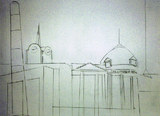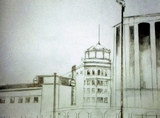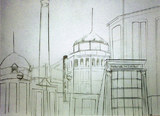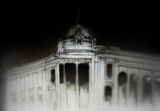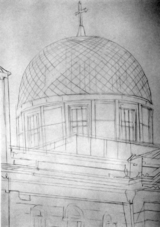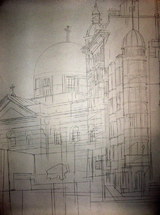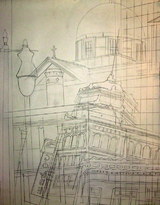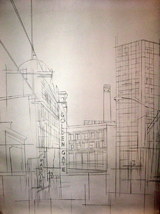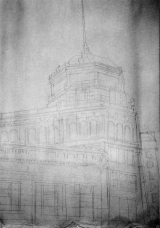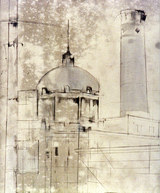 Sixth Street Series I

Size: 50" x 38"
Medium: Graphite on paper
Date: 2002
Sold



Permanent Collection of Carmela Garnica, Director at La Escuela de la Raza Unida, in Blythe, CA.

Available as reproduction!
Fine Art Print of original drawing
Printed on archival paper & signed by the artist, Araujo.
Size: 14" x 11" . Framed (white wooden frame)
Total dimensions with frame: 18" x 14".
See pic below to get a look at frame which is exact to this one featuring another drawing.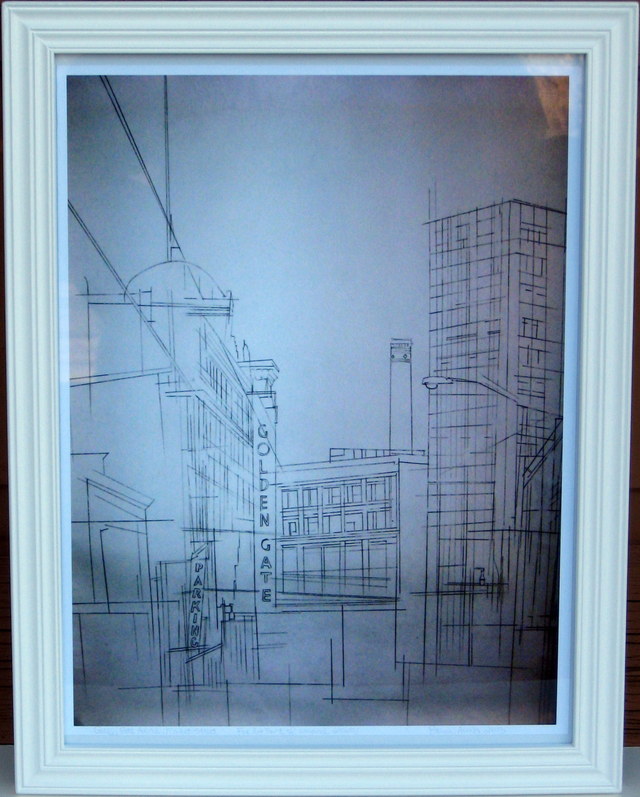 Price includes delivery in SF and shipping in the USA
Additional cost for International Shipping.
To inquire about this piece, please contact Araujo

DESCRIPTION:
Sixth Street Series I, a linear drawing combining personal architectural icons confronting one another, as if the Golden Gate Theatre is rising from an office building, propelled towards the tall dome at the right corner, a Ukrainian Orthodox Church, originally located at 7th and Folsom Streets, in San Francisco. Also depicted a tall light fixture and the PG&E Power Plant of 6th and Jessie Streets. These two structures are on their own, stand independent, yet the tower is not seen as tall as it seemed in earlier drawings. In this drawing, the tower is protected, standing below the church. I envisioned Sixth Street Series I, as a nostalgic setting, seen as individual forms imagining how they combine as one.

Sixth Street Series I was first exhibited in 2002 during Patricia's Solo Show titled Sixth Street Series, "Roger Gordon for Districy Six" @Headquarters' Office, San Francisco. Patricia participated during the Fundraiser Party for Roger Gordon during his campaign for Supervisor District Six. Sixth Street Series I was exhibited in 2004 during Patricia's Solo Show titled New Paintings, at SOMA Gallery, San Francisco, March 2004. In 2008, this drawing was exhibited at HEART OF THE CITY: Two Person Art Exhibit and Book Release - Patricia Araujo and Mark Ellinger, at the North of Market/Tenderloin Community Benefit District Corporation, San Francisco, CA. (6 months exhibition).

Sixth Street Series I is featured in Patricia's book entitled, SOMA SEEN, published in 2008, and as of 2009 this drawing is part of the Permanent Collection at the North of Market/Tenderloin Community Benefit District's Offices, San Francisco.



[ Write a Review for this Work ] [ Return to Gallery ]