Tomorrowland Today
04-10-2015 09:08 am
TOMORROWLAND TODAY
Paintings by Patricia Araujo
April 13th - August 31st, 2015
Opening: Saturday, April 18th
Open House from 2:00-8:00pm


2220 K Street, Sacramento, CA 95816





OFFICIAL RELEASE
The Trade is pleased to present its first art exhibit, Tomorrowland Today - featuring paintings by Patricia Araujo. Her works will be decorating the space during months of April 13th to August 31st and will accompany the Trade's grand opening on Saturday, April 18th, from 2:00 to 8:00pm, celebrating its new express coffee shop and co-working experience in Sacramento. It shall be an open house all day. Also accompanying Araujo's exhibit, will be a food truck at the back parking-lot to meet Local Celebrity Chef, Adam Pechal as he fires up his Pop-Up at 6:00pm. There will also be raffle tickets, ping pong games, and followed by live music provided by Sacramento's favorite band, the Storytellers.
Coincidently too, a new film entitled, "Tomorrowland"(directed by Brad Bird) which will be released at movie theatres in late May 2015, also shares with Araujo's interest with Disney's Tomorrowland. Although both Araujo's artworks and the film are created completely independently and are different in story and imagery, each offers their unique interpretation for a futuristic theme land!
For over a decade, Patricia Araujo has painted buildings' facades of San Francisco's central city architecture. She continues to paint iconic city landmarks and downtown buildings. During 2008 to 2010, Araujo developed a new series of paintings, Tomorrowland Today. This series was inspired by futuristic, classical, and industrial architecture. The specific point of departure was finding photographs of circus arenas in Romania and Ukraine. She also self-published a book entitled, "Tomorrowland Today" in 2011 to accompany this series.

Araujo's father was an architect and worked for Walt Disney Imagineering in the 1970s and 1980s, and during her childhood, she visited Disney World every summer. It was there that she was first fascinated by amusement parks, and in particular by the Space Mountain ride, which has become an American icon for kids and adults. Araujo sees resemblances between Space Mountain and another structure- a circus building in the city of Dnepr, Ukraine, a city that became Russia's major center of steel production early in the 20th century. Dnepr has also been an important center of aerospace and nuclear-weapons development; in that sense it is a city of the technological future. Not an amusement-park Tomorrowland, but a real one. There are similarities between the two buildings' design and also in their function as places of entertainment.

For this series, Araujo has created her own version of the Dnepr circus building, which appears as a spaceship and recurs in many of these paintings, acting as a unifying element. These Tomorrowland paintings highlight the exteriors of complete structures, but also depict architectural fragments and decorative elements. Their style, another unifying element in this series, is largely abstract. Individual elements have sharp, precise edges, highlighted by bright, flat colors. The style has more in common with the abstraction of architectural drawing than with realistic painting.

These imaginary cityscapes are a mixture of old and new constructions from various places, East and West. Araujo has sought to bring centuries of utopianism and hope for the future together in a fantasized present, as that present might be created in an architect's or a painter's vision. Designing an amusement park for Disney Imagineering has something in common with designing the new landscape of the aerospace industry, and by now the futuristic designs of both Disney and aerospace have become part of the human imagination.





About The Trade
The Trade is an idea whose time has come: The next generation of blending a café and technology into a Co-working office space. The Trade Coffee & Coworking is indeed, a café -- but instead of simply providing Internet access, The Trade offers patrons access to a complete array of business resources such as a flexible workspace for businesses, a co-working membership service with several levels, including two conference room facilities, and two open office spaces up or down stairs, daily events, and classes. Blue Bottle Coffee and Freeport Bakery has teamed up with The Trade as wholesale partners. The Trade is located at 2220 K Street, Sacramento, CA, and is open everyday from 7:00am to 9:00pm.


About Patricia Araujo
Patricia Araujo was born in Miami, Florida, and she grew up in Bogota, Colombia. She began drawing at a very early age, always intrigued by architecture and form. Araujo moved to Northern California and studied architecture, painting, and photography. In 2005 she obtained her second B.F.A in Painting from the San Francisco Art Institute. She has been exhibiting in San Francisco since 1998. In 2008, she published her first book entitled,"SOMA SEEN", followed by "Tomorrowland Today" in 2011 and "SOMA Rising" in 2012. Her work has been written about in the San Francisco Chronicle, Huffington Post, ARTslant, 7x7 SF, Beyondchron, Examiner and the San Francisco Bay Guardian. To view Araujo's complete portfolio & resume, please visit: www.AbstractMetropolis.com


View photos from the opening!


Related Press

Welcome to Tomorrowland, Inside Magazine, by Jessica Laskey, July 2015, page 56.
Tomorrowland paintings featured in "Good Day Sacramento" at The Trade, April, 2015.
7x7SF Four Don't-Miss Art Shows This Week: Geometric Goddesses, 7x7 SF by Alex Bigman,'12.
Spotlight Emerging Artist: Patricia Araujo, 2Op Collective, by Lauren Smith, April, 2012.
"Geometric Goddesses" @ Roll Up Gallery, by Alan Bamberger @ Artbusiness.com, March, 2012.
"Idealization of Shapes" @ Roll Up, by Alan Bamberger @ Artbusiness.com, July, 2011.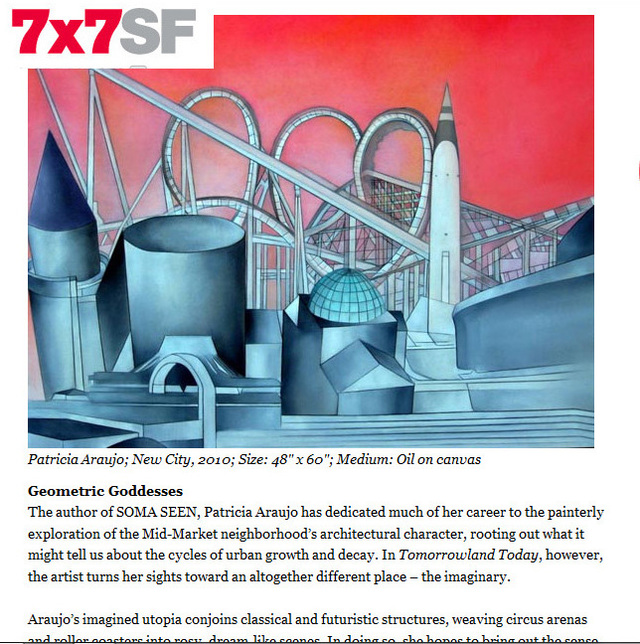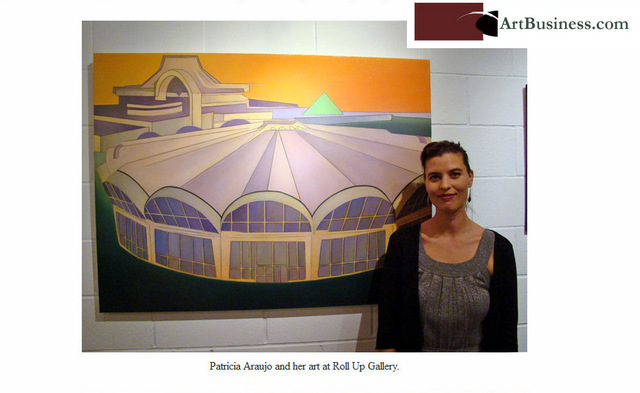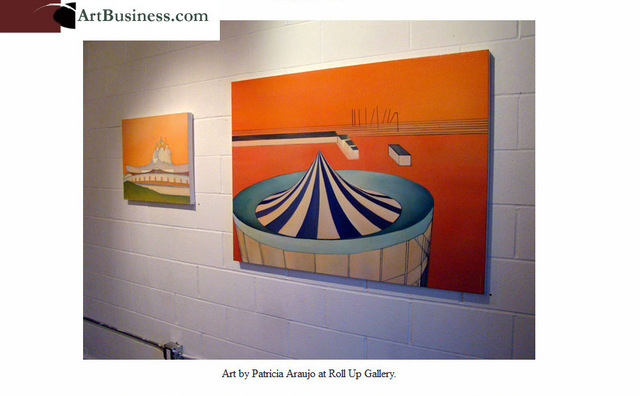 ---