"Lets go to the fair" @ Old Mint
07-07-2014 12:15 pm
GGIE paintings by Araujo
Will be on view at
"Lets go to the fair!"

Tuesday, July 8th
San Francisco Museum & Historical Society
Reception starts at 7:00pm
Lecture at 7:30pm by Kathryn Ayres -
Vice president of the San Francisco
Bay Area Post Card Club
The Old Mint
88 Fifth Street @ Mission
San Francisco, CA 94103


above: painting by Araujo, "Elephant Towers and Tower of the Sun"

I am pleased to announce I received invitation to showcase my works relating to the architectural wonders of GGIE (Golden Gate International Exposition of 1939) to accompany the opening reception & lecture "Lets go to the fair" by Kathryn Ayres - Vice President of the San Francisco Bay Area Postcard Club, at the Old Mint, tomorrow, July 8th at 7:00pm. This event is hosted by the San Francisco Museum & California Historical Society. Below is more information about the lecture.

I will have on display 2 new paintings and framed poster that was created by the Treasure Island Museum Association of the painting I made of "Tribute to Pacifica". I shall be in attendance and looking forward to hearing Kathryn's presentation. If you can make it and for those who love the theme and history about Treasure Island fair, shall be a great one to not miss.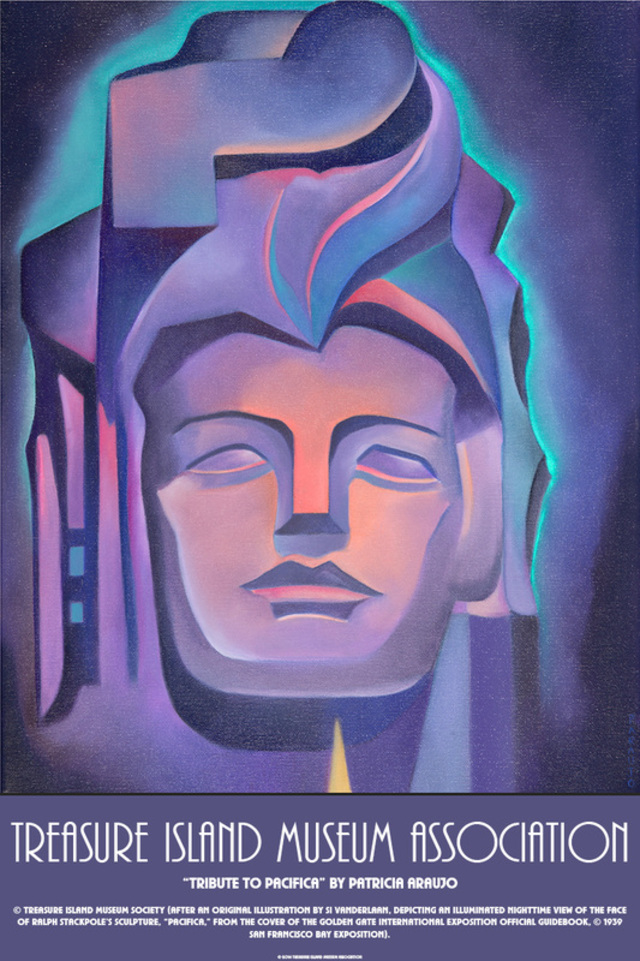 Cheers,
Patricia Araujo
Lets Go To The Fair!
Kathryn Ayres
Tuesday, July 8 - 7:30 PM
The Golden Gate International Exposition was held to celebrate the completion of San Francisco's two new bridges. The San Francisco-Oakland Bay Bridge was dedicated on November 12, 1936; the Golden Gate Bridge was dedicated on May 27, 1937; and on August 26, 1937, dredging for Treasure Island, the site of the exposition, was complete.
Throughout the run of the fair, multi-colored searchlights were visible for 100 miles around. Approximately 1200 gardeners worked in the wee morning hours to design flowerbeds that corresponded with the seasons. The magnificent garden courts were designed to showcase California's balmy weather, in contrast to that of New York, which was hosting a world's fair at the same time. As both fairs were partially financed by federal funds, no doubt New Yorkers felt slighted by President Roosevelt's statement after he made a visit to the Treasure Island fair: "I think you people out here on the Pacific Coast, when you start to do something, do it better than anyone else in the United States."
Kathryn Ayres, vice president of the San Francisco Bay Area Post Card Club, will show postcards and other rare ephemera to carry you back to the Magic City on Treasure Island in 1939 and 1940. Kathryn is the guest curator for the current 75th anniversary exhibit at the Treasure Island Museum, which showcases many items from her personal collection.
Programs are free to SFMHS members. Admission for non-members is $10 per person ($5 for seniors, students, K-12 teachers, and persons with disabilities), which may be applied to membership dues within 30 days.
The Old Mint is located at 88 Fifth Street at Mission. The Old Mint is close to Powell MUNI/BART, and is served my numerous bus lines.
Parking is available in the Fifth and Mission/Yerba Buena Center Garage.
Please join us at 7 PM for a reception before each program
---