Delicious 2017
09-07-2017 01:21 pm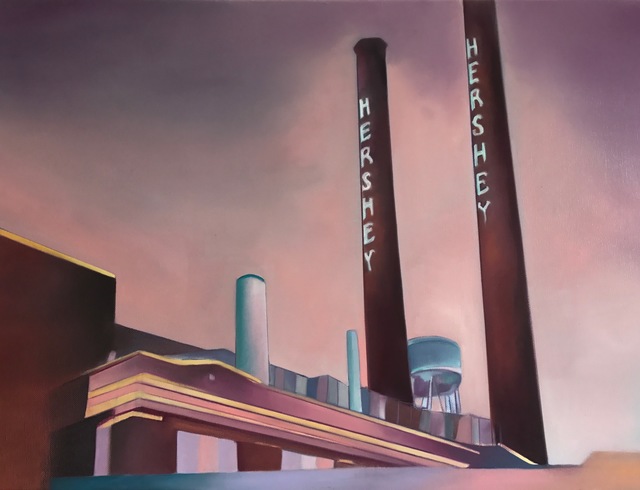 Hershey's, 18" x 24", oil on canvas by Araujo, 2017.

Group Show,
DELICIOUS:
Art inspired by food & drink
Aug 31st - Sept 18th, 2017
Opening: Sunday, September 10th
2:00 - 6:00pm
STUDIO Gallery
1641 Pacific Avenue (bet Polk & Van Ness)
San Francisco, CA 94109



In its 13th year, STUDIO Gallery, celebrates "Delicious" annual group exhibition - art inspired by food and drink. Over 80 local artists showing and over 150 pieces on display. You can preview the show here.
The opening reception will take place on Sunday, September 10th, from 2:00-6:00pm. STUDIO Gallery, 1641 Pacific Avenue in San Francisco. Show runs through September 18th.
This will be my third time showing in the annual "Delicious" group exhibit at STUDIO and delighted to have "Hershey's" included in this year's show. "Hershey's" presents the iconic building facade of the original Hershey's chocolate factory (also known as Chocolate World) in Hersheys, Pennsylvania, painted in earthy candy-like tones. I've been fascinated by the facades of chocolate storefronts/factories and industrial plants, and have dedicated a series in years past. Eventhough, I've not had the pleasure to visit the original Hershey's, I've enjoyed tasting Hersheys chocolates and like many folks out there, love chocolate! With this new painting, I wish to share a glimpse to its fascinating place.
This is my second painting I've done of Hersheys chocolate factory. To see the first piece I painted back in 2011, visit here!
Hope to see you at the opening!
View more pics from the opening!


Cheers,
Patricia Araujo

---