Daylighted Featured Artist at Hotel Zephyr
08-11-2016 03:44 pm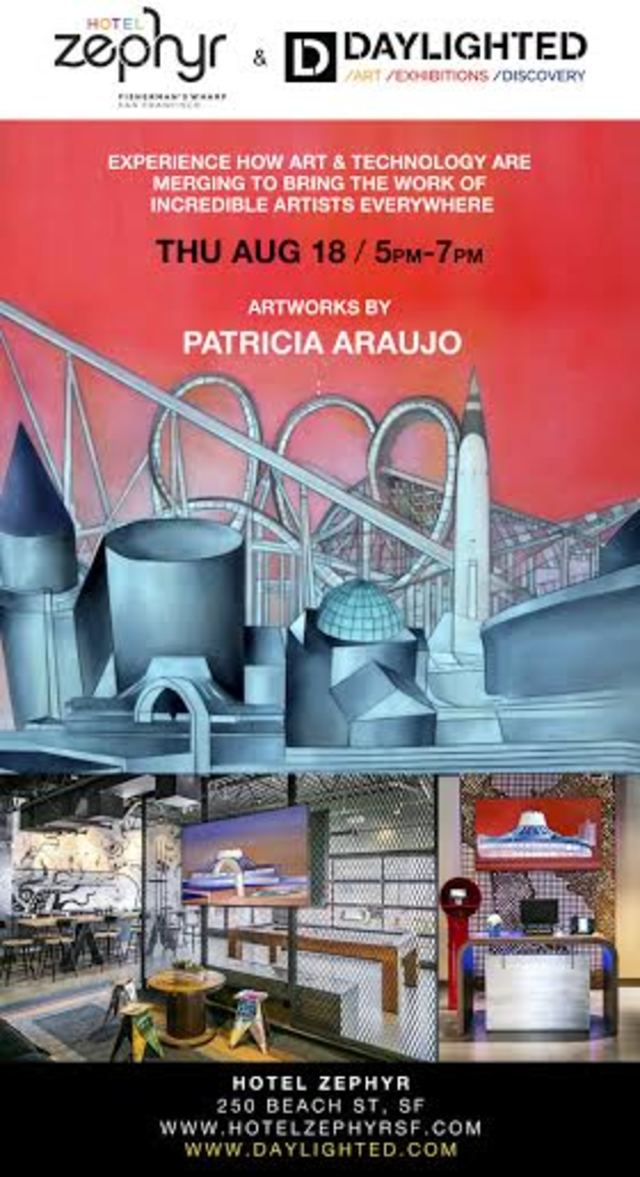 Hello friends and art lovers!
I hope you are all doing fantastic!

I wish to share with you my latest art show organized by Daylighted to be held at Hotel Zephyr in San Francisco. The wonderful Betty Bigas (Curator at Roll Up Gallery and at Daylighted) has invited me to showcase my paintings with Daylighted at this new exciting hotel. This will be my 4th occasion exhibiting my works with Betty, although my first with Daylighted, and as always a great pleasure to work with her.

Daylighted transforms places such as hotels and restaurants into digital art galleries and offer them an opportunity to easily display and sell an exclusive collection of art from worldwide and local artists. Daylighted has an amazing online platform so at any given time one can view works of their favorite artist roster and acquire an original or reproduction, (you can view mine here).

I'm the featured artist for the month of August at Hotel Zephyr, located at 250 Beach Street. The reception will take place next Thursday, August 18th from 5:00-7:00pm. This is an invite only event, (free admission). If interested in attending please RSVP to add to waiting list since the venue capacity is getting full.

Experience how art and technology are merging to bring the work of incredible artists everywhere. Enjoy beverages and light bites in the Game Room and in the Hotel Zephyr's expansive Yard. There will be approximately 10 digital monitor screens at the hotel lobby and surrounding area to display my works for month of August, which include images from both older and new works, derived from my SoMa/Mid-Market Landmarks and Tomorrowland series. During date of reception, on August 18th, from 5-7pm, I will have some of my original paintings on view to accompany the existing exhibit. I will also have my books ("SOMA SEEN", "SOMA Rising", and "Tomorrowland Today") available for purchase. Anyone that wishes me to sign a copy, I will be happy to.

This is a very new approach of exhibiting an art show via digital platform, and I must say the images look great on the screen and are very alive. I'm delighted to have been invited to share my works with Daylighted and at Hotel Zephyr and I hope all guests will enjoy viewing the art in this new setting.



Patricia with dear friend and art critic, Jerome Tarshis

Cheers,
Patricia Araujo

---